Memories Remain
A downloadable game for Windows
An adventure game with an Italian flavor set on a unique island in Lake Maggiore.

After feeling humiliated during the funeral for grandpa Piero, Marco embarks on a journey to Isola Minore to prove once and for all that Piero's made-up stories only bring harm to people around him.
During his journey Marco will meet grandpa's old friends, learn more about his past and discover that maybe there was more to the story than he used to believe.
Visit Isola Minore, interact with its eccentric inhabitants and relive grandpa's bizarre adventure!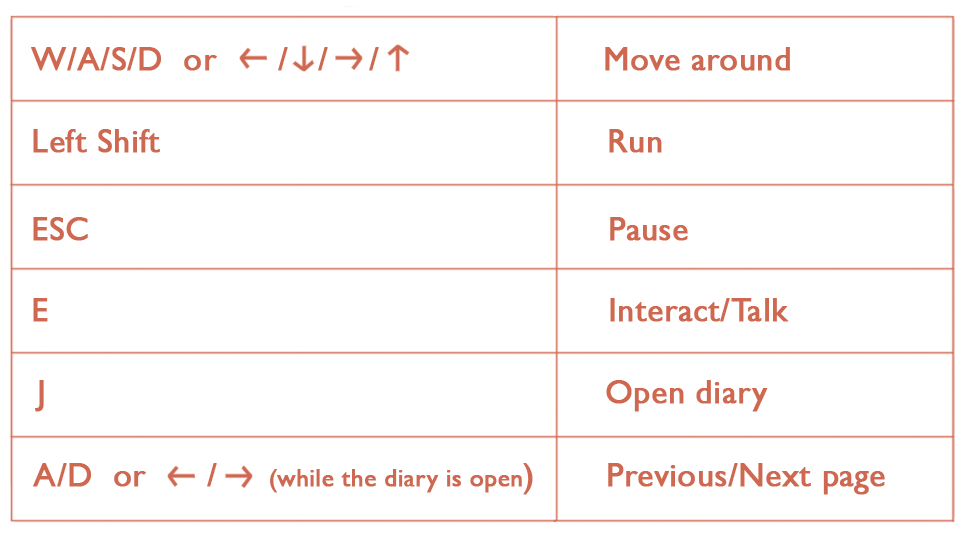 Remember that you might find bugs or issues while playing this game.
Please, consider leaving feedback in the comments. Happy gaming! :)



GAME DESIGNER
PROGRAMMER
2D ARTIST
• Bonamici Lara
3D ARTIST
• Ostinelli Giulio

SPECIAL THANKS TO

• Gnemmi Davide

• MusicLFiles at filmmusic.io

• Moon Acoustic Vibes by LesFM | https://lesfm.net/ Music promoted by https://www.chosic.com/free-music/all/ Creative Commons CC BY 3.0 https://creativecommons.org/licenses/by/3.0/
| | |
| --- | --- |
| Status | In development |
| Platforms | Windows |
| Rating | |
| Authors | Event Horizon School, Alcom08, Paolino Maisto, Facchi, Silvia Begotto, 0nellama, leolaz99, ElCangre, ShayNick, Donata Poli, Alezerb, Mattia.Cecconello, Francesco Maria El Fiore |
| Genre | Adventure |
| Tags | 2D, Cartoon, Colorful, Cute, Narrative, Relaxing, storygame, Story Rich, Unreal Engine |
| Average session | A few seconds |
Download
Download
MemoriesRemain - Demo.zip
386 MB
Install instructions
Download and unzip, then launch the .exe file (application).
Comments
Log in with itch.io to leave a comment.
Davvero stupendo, complimenti!
This is a lovely project. The concept, the pacing, the visuals, so sweet. I am worried about the number of cats for such a small community. Are they all stray cats? So many! :)


Ma il gioco è ancora in lavorazione e questa è una demo? Quando uscirà il gioco completo?
Ciao Chabk, sono uno degli sviluppatori e per risponderti, si, questa è solo una demo del gioco, al momento stiamo cercando un publisher per poter terminare la lavorazione e pubblicare. Non abbiamo quindi ancora una data di uscita o dei tempi precisi di lavorazione.
Grazie per il tuo interesse e continuaci a seguire sulle nostre pagine per maggiori notizie sul gioco!
Great game, really talented dev team. Looking forward to seeing what they produce next - from storyline to segueing into the npc interactions it was handled really well.
Thank you so much for the feed and I'm glad you enjoyed it in its entirety! :)
Personally, I can't wait to finish it, have the full experience played, show the whole story and let people know a part of our country with its culture and folklore!
The game was fun! I really liked how pretty it was and I loved the narrative direction it chose to take. The story tries to keep a playful tone which makes it very enjoyable to play the game through. The idea of telling old tales in a metaphorical and dreamy way is really engaging; it might be a bit too cryptical and heavy sometimes, but as an upside it gets you to squeeze your brains out a little and gives you the role of reinterpreting some of the story in your head. The only thing that actually felt lacking was also the same thing that made me appreciate the game the most, which is the secondary NPCs' dialogues: while they're fun to read for the most part, sometimes it felt like there was just too much and while at first it felt fun to play around and interact with everyone the almost totally absence of purpose in doing so (story-wise) made it a bit tiring after a while, taking out the occasional chuckle and fun out of the random npcs... That said, I still feel like it deserves the 5 stars, as the game has lots of pros to make up for it, for example, cats.

Really, there's lots of cats in this game and I love all of 'em hahaha.

TL;DR: The game is good, interesting and really pretty: it deserves to be played :)
Thank you very much for your detailed feedback Claud <3
Thank you Claud we will treasure these feeds!
Glad you liked it and especially the cats are always the best. <3
Hello, Claud!
Thanks a lot for your precious and lovely feedback. As one of the narrative designers of Botte Piccola, I am really glad you ejoyed the "reinterpreting some of the story in your head" part of the game, we really tried to push on that aspect of the plot without overdoing it. :)
Thank you again for the kind words, hope to hear from you when we will release the next update! C:

Grazie mille! Siamo felicissimi sia piaciuto <3
si stato bella esperienza .per curiosita quale luogo del italia e ispirato gioco ? sensazione sembra sud italia magari mi sbaglio
Lago Maggiore nel nord Italia :)
ok grazie ..speriamo gioco possa poi arrivare nei store steam e console merita di essere conosciuto ...
Ehi, ciao! Grazie davvero tanto per aver giocato tutta la prima parte del nostro gioco e averci dedicato un video su YouTube! C:

Ci piacerebbe davvero tanto riuscire a portarlo anche su altre piattaforme ed espanderlo ulteriormente! <3

si stato un piaciare ... ho molti amici dev italiani anche alcuni lavoro lobby a++ ... ci sono molti talenti dev italiani stanno emergendo ultimi anni ..questo buon segnale .. anche io passione giochi creepy retro stile psx ...mi piace giocare quasi tutto ;D