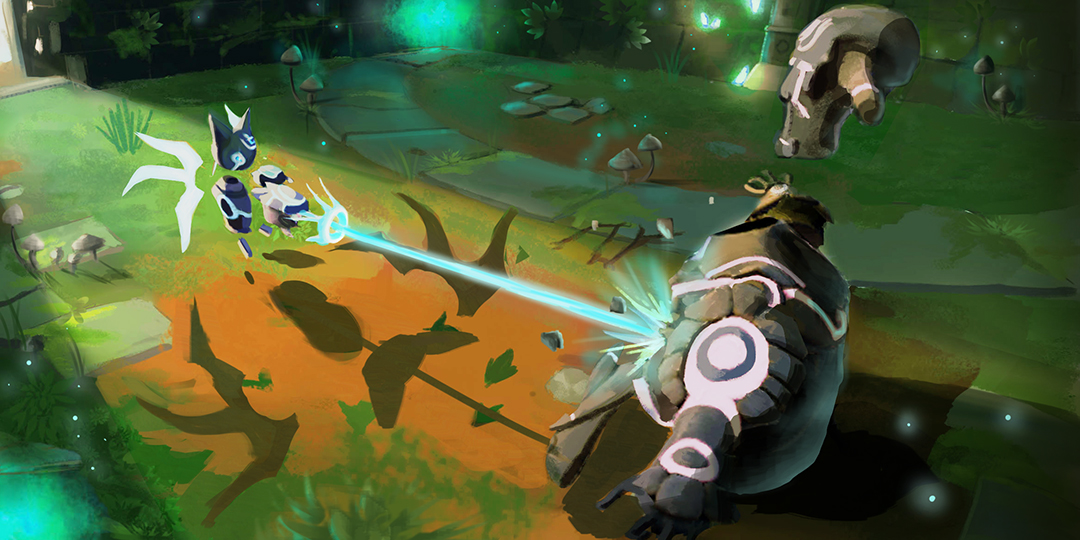 Runeforged
Instructed by its creator to destroy the golems that brought his world to ruin, this hero will journey through a mysterious city filled with enemies and crystals, discover the tale of its rise and fall, and will face epic bosses using only his grappling hook.

Versatile gameplay: the grappling hook in capable hands can be transformed from a means of transport to a powerful weapon. Use it in different ways to tear apart enemies, trap them or bring them down.
Unique golem: this epic bosses are moving and deadly puzzles that you have to overcome with insight and dexterity. Figure out how to destroy them while dodging their terrible strikes and use every part of your grappling hook to take them down.
20 KILOBYTES GAMES (EVENT HORIZON SCHOOL MILAN, YEAR 2, 2019/2020)
Programming:
Matteo Turco
Nicolò Zannini
Game Design:
Luca Gambadoro
Alessio Guglielmetti
Tommaso Tonella
Gianluca Zaninelli
Enrico Zhu
3D Art:

Giulia Coco
Alessandro Maggiori
Francesco Riccio
Laura Zerbinati
Concept Art:

Davide Carrubba
Maria Elisa Del Core
Joey Ruberto
Silvano Sorino
Stefano Spotti
Andrea Stanga
Riccardo Varisco
Sound Design:
Install instructions
Download the .zip file, then unzip and launch the .exe file.